Barn & Arena Lights
Barn Projects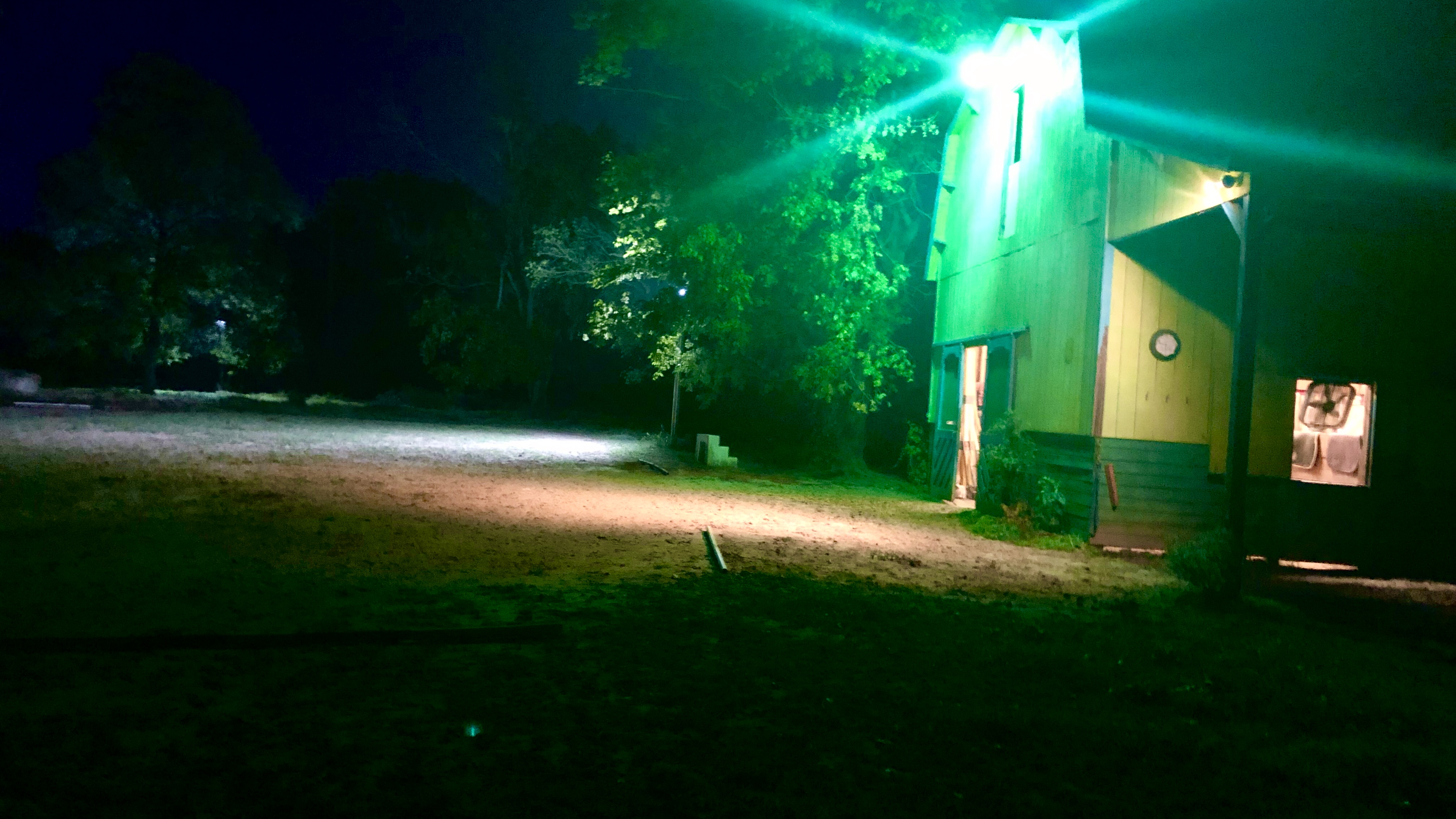 Outdoor Arena Lights
While there are some lights installed on the barn itself, there wasn't nearly enough light for riding purposes. Thankfully, with regards to installing arena lights, we did previously have two arena light posts over 10 years ago (one of which is still standing and the wire was still live). While the closest post had died and was out of the ground, the wires initially dug and run were still live and able to connect new flood 100W LED lights to. I did have to order the 6"x6"x20" post and I also installed it completely by myself (although I highly recommend having a helper for that as it was difficult). Once the hole was dug and the post was left setting for a few days with concrete and packed dirt, I worked on reaching out to a qualified electrician to come out and install the flood lights that I had purchased (a standard pair off of Amazon that I did verify with the electrician before purchasing). I am not an electrician and I do believe that some things are best left to the experts (before you electrocute yourself).
The results were awesome and lights were finally an option when the days get shorter, providing many more opportunities with my horses. I have had to replace two of the 3 lights that I have installed as it appears as though a bad storm did get water damage inside of the lights and burned them out. However lights are definitely worth having.
LED White Christmas Lights - Beautiful Barn Lighting
Light in a barn is extremely helpful during operations, particularly during the long nights that fall during the end of the year. In my situation, I had lighting inside the barn and in front of the barn. However, I found myself struggling with the lack of lighting that was available on the side of the barn under the overhang. It made sense for when the barn was built, as we would groom and tack up inside the barn stalls at the time. However, I much prefer tacking up outside and on cross ties now as it's more open and it's easier to get around. Up until now, I've simply dealt with the dilemma but also haven't been riding as much in the dark season with the cold. Now that I'm looking at riding more after work with the arena lights set up, I wanted to make sure that I had enough adequate lighting for before and after. Not only were the lights easy to set up, but the LED bulbs also output a solid amount of light for one strand. In addition to now having extra lighting under my overhang, the project also just glows like the night sky and has an elegant and beautiful look to it. I only have one 60' strand up at the moment, but very well may add one more as they easily attach to each other.